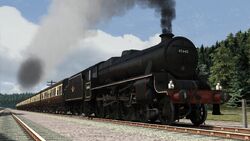 Stan
Number: 45440, previously 5440
Class: LMS Class 5MT "Black 5"
Designer: William Stanier
Build date: 1937
Configuration: 4-6-0
Voice Actor: Andy Stovold
Stan is a large mixed-traffic engine who lives on the Stovell Valley Railway. He is Dave's brother.
Stan was built on November 30th, 1937 at Armstrong Whitworth's works. Not much is known about his past, but he was very close to his brothers. 
In 1950, Stan visited Birmingham for Christmas to see his brother, Dave. At this point, Dave was going through a severe bout of depression, and he finally broke down, venting everything on his brother. Dave was given permission to leave Birmingham after this, and headed with Stan to his then home, the Stovell Valley Railway. However, Dave was transferred elsewhere in 1952.
Stan continued to have many adventures with his friends and colleagues on the Stovell Valley Railway, once famously failing on the debut run of the "Stomouth Seaside Express".
In 1969, Stan attended the Dark Railway's reopening steam gala along with fellow Stovell Valley resident King Edward V. He was thrilled to be reunited with his brother, and at the end of his visit, he promised to ask his manager if Dave could visit him again sometime before departing.
Stan is a caring engine, though he is not above having a laugh, much like his brother, Dave.
Stan is currently painted in BR Lined Black with Early Crest, though he was previously painted in both LMS Black and BR Green for a brief period of time. In his appearance in The Dark Railway Series, Stan wore BR lined black with the late crest.
Stan is based on a London, Midland and Scottish Railway Class 5MT 4-6-0, also known as a "Black 5".
Appearances
Edit
The Dark Railway Series
Edit
Episodes:
Stan is one of the main characters in the Steaming Westwards Productions series, The Stovell Valley Railway Series. He was also a character in the original incarnation of the aforementioned series, and also featured alongside Dave in The Three Fives.
Like Dave, Stan's old model will be replaced by the Bossman Games Stanier Black Five during the course of The Stovell Valley Railway Series Season 2.